Written by Dr. Humberto Villarreal Colmenares
BIOHELIS: a unique science and technology park in Mexico
2009-11-27

Humberto Villarreal and Laurence Mercier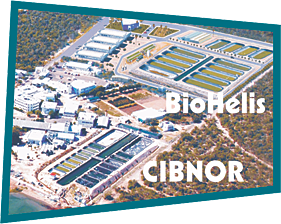 Upon celebrating its 34th Anniversary, Centro de Investigaciones Biológicas del Noroeste (CIBNOR) started creating a park for technology innovation called BIOHELIS jointly with the State Government of Baja California Sur and the National Council for Science and Technology (CONACyT). The purpose of this park is to transform scientific knowledge into innovating products that improve business competitiveness, generate employment, and contribute to food assurance in the country. Knowledge transfer will be performed in the fields of aquaculture, fisheries, agriculture, and land regulation by promoting eco-efficiency as well as sustainability.
Eco-efficiency is a term that was developed in the beginning of the 90s, which means to create more value with less impact. BIOHELIS is the first science and technology park in Mexico dedicated to eco-efficient and sustainable exploitation of natural land and water resources. In BIOHELIS, biotechnological projects, as well as bioremediation, bioengineering or bio-information projects will be performed. BIOHELIS represents a unique opportunity for businesses that want to develop innovative and technological projects in the fields already mentioned.
BIOHELIS, located on the property of CIBNOR, has the experience of this internationally acknowledged institution with more than 100 researchers, certified laboratories, as well as logistic and administrative support. BIOHELIS will first extend on a surface of 10 hectares and will begin operations in 2010. It is located only 20 km from the city of La Paz which is well known for its peacefulness and for the beauty of its natural resources. La Paz, capital of the State of Baja California Sur, is a dynamic city in full development with a wide array of marine, land, and air communications. La Paz also offers a large scientific capability of 6 well-known academic institutions. Because of its location and vocation, La Paz offers a wide potential for aquaculture and fisheries development. Besides, its warm weather is ideal for agriculture development in extreme dry conditions.

BIOHELIS has four specialized areas called InnoVa, EscaLa, ComerCia, and NegoCia, where enterprises will be incubated and stepped up. Each area has the following specialty:

1) InnoVa: This is an area dedicated to research and technology development. InnoVa is made up of 5 modules of different sizes in order to provide enterprises with the required flexibility and an expansion area for future development. The units will be equipped with services such as sea and fresh water supply, electricity, and communications. These modules are ideal for companies that want to develop or improve technology jointly with BIOHELIS .


2) EscaLa: This is an area composed of tanks for aquaculture, greenhouses for agriculture, and an area for future developments, which are ideal for companies that are looking for scaling up and adapting technologies at pre-commercial level .



3) ComerCia: This is an area which in the future will allow hosting strong companies that want to apply a technology developed jointly with BIOHELIS at a commercial level. ComerCia will have modules and lots in which buildings or structures can be built for production .

4) NegoCia: This is a business center that will provide multiple services, such as: project management and administration, business advising, marketing studies, business plans, project proposal preparation to obtain financial resources, technical training and development, and special services and studies, such as environmental impact assessment, laboratory analysis, and intellectual ownership services (e.g. patents). It will also have furnished halls for meetings, videoconference services, a computer lab, laboratories for training and special practices, and offices and secretarial support for businesses.

BIOHELIS will offer the following wide array of services that will allow enterprises to develop their efficient, safe, and state of the art activities:

• Good quality sea and fresh water supply will be available in each area of technological development and innovation;

• The waste discharged by each enterprise will be collected by BIOHELIS, and according to waste nature, it will receive different treatments. Because this is a Park that will promote eco-efficiency and sustainability, the companies must not perform polluting activities unless they have corrective and remediation measures for incompatible activities with these two concepts;

• Security: The park area will be limited by cyclone wire fencing to avoid entrance of animals and non-authorized persons. It will also have an electronic security system where each enterprise will have exclusive access to the area it occupies;


• Offices: the following supplies will be provided: WiFi (Fierce Broadband Wireless Internet), telephone, videoconference system, national and international messenger service, photocopying and fax;

• Accounting and administration: available services for businesses with innovation projects within the park.


Science and technology parks

Science and technology parks developed from industrial parks. The most representative example is probably the Industrial Park of Stanford University in California, U.S.A., which was founded in 1951 and evolved nowadays to Technology Park of Silicon Valley.


Science and technology parks are dynamic spaces where ideas and knowledge generated by the scientific community are turned into products, processes, or innovative services that improve enterprise competitiveness. The parks are also a unique space to promote innovation, because they have the synergy of three basic actors: scientists, businessmen, and government offices. This synergy is known as "the triple helix", because each actor forms a blade and the interactions among them are very dynamic.


Science and technology parks are likewise compared to technological bridges, because they allow an ideal exchange between academic, business, and marketing institutions. Some parks expand much that they form cities dedicated to scientific and technological development. These parks are also called Technopolis.

The increase of science and technology parks around the world is motivated by economic development and the competitiveness they develop. The parks create new business opportunities and give added value to low cost products, which at the same time generate employment. Since 1984, the International Association of Science Parks (IASP) groups the parks all over the world stimulating communication among them, besides providing services that improve the good working order and / or efficiency of its members. This association has currently more than 370 members spread out in approximately 75 countries. The most representative activity sectors are information and communication technologies, computer science, chemistry, nanotechnologies, pharmaceutical technologies, renewable energies, food technologies, etcetera.

The success of a park depends on several factors, such as the collaboration of academic institutions, capability of scientific personnel, technological and industrial national policy, continuous commitment of public impulse, the degree of business development of the country or region, infrastructure, business costs and services, among others. The successful model of a park does not always transfer to another region or activity sector.


Increase competitiveness in Mexico


In Mexico, it is a national priority to improve competitiveness to increase economic growth that deteriorated in recent years. The classification of our country in the list of the World Economic Forum dropped from less than 35 at the end of the 90s to 52 in 2007. This situation could be explained in great measure to economy deceleration of the United States and our great dependency on them. Approximately 80% of our exports are performed with this country. However, our economic decrease is also due to the facts that we export raw matter essentially, make low-added-value products, and lack technologies. We characterize ourselves as an assembling (cross-border) country.

In order to avoid being an observer of world economy, our country must strengthen competitiveness of its economy, and will only achieve this by having competitive businesses. In other words, our country should have state of the art technologies dedicated to making high added-value products. Nowadays, the majority of Mexican companies do not reach this level of competitiveness mainly due to lack of investment, deficiency in technology and knowledge transfer, lack of innovation, limited governmental policy, and lack of sustainability in industries.

To improve the competitiveness of Mexican businesses we need to tackle all these factors. In case of innovation, which could be defined as introduction or improvement of a product, service or process and its acceptance in the market, our country shows low indexes. One explanation could be the lack of relationship among scientific knowledge, technology development, and production. In Mexico technological appropriation is slow because science, technology, and production represent independent processes. Other countries like China or Brazil, which make these components interact jointly, show a faster technological appropriation.

Detonation of innovation in our country as a daily activity of our companies is urgent, and science and technology parks are the ideal places for this purpose. However, we have to be aware that the development of a new technology is a long term process.
Last Updated on Wednesday, 19 May 2010 10:53